Just like you our nose is out there to the red carpet photos in the recently held MTV VMAs! We are stunned to see a lot of red carpet outfits with thigh-high slits or such revealing side cuts and cleavage here and there. In short, the celebs are all for showing-off much skin.
Aside from the slits and cut-out dresses, we are alarmed with too revealing outfits of Selena Gomez and Erin Wasson. Though they are two outfits accepted in the fashion industry, well innerwear-as-outerwear trend, still donning the trend is quite too much for a red carpet event.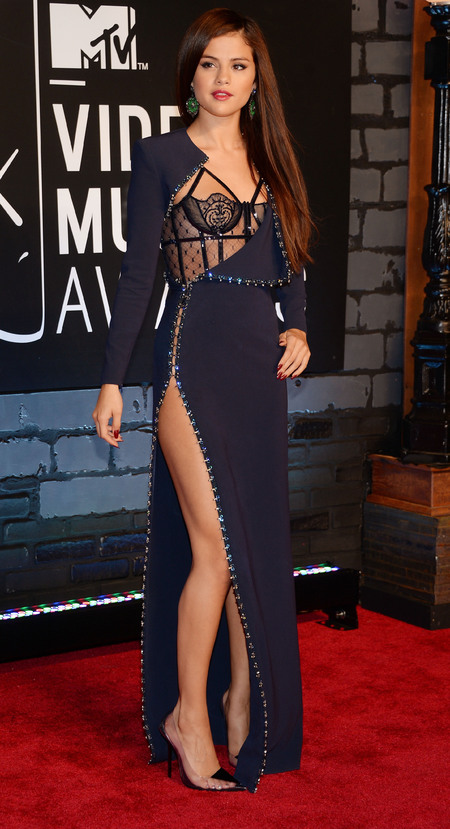 SEXY AND CLASSY
SELENA GOMEZ's outfit is too revealing and sexy for her age. Though we have to admit, her way of showing-off her innerwear, and her thigh-high slit is lined with some air of class and elegance. No matter how sexy her chest area is, with that lace bra corset, we love how she balanced everything off. Like the choice of long sleeves which balances her too high slit and too revealing neckline. Her long straight hair which is simple and classy. Her drop earrings and her light natural make-up added that goddess feel. So no matter how too sexy her outfit is, we still find it elegant.
TOO SEXY AND TOO MUCH
Moving on, with ERIN WASSON's outfit, we find it a tad bit too revealing, and sad to say, tacky. Showing-off too much of what you have underneath is not proper and not showing-off good taste. For a red carpet appearance, this is way too improper and just suits beside a pool area.
Innerwear-as-outerwear look trend may be something new to try, but always remember that the right way to do it, so to always balance everything. Too much of something is always bad. Make sure to try the trend with class and always complete an outfit looking elegant and not tacky!
The way you dress speaks up first on how other people will think of you at first glance!
So always make sure to dress up with class and elegance all the time!